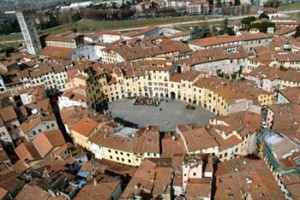 Piazza Anfiteatro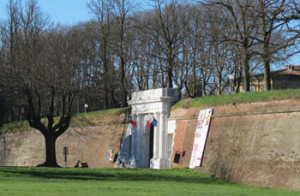 Wall of Lucca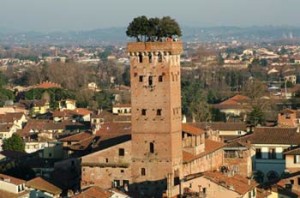 Lucca Tuscany

Content: Leaning Tower of Pisa, Medieval town of Lucca, local cuisine at family owned restaurant.
Form of excursion: Driving tour (approx. 2 hour drive) with English speaking licensed driver/ guide.
Format: Private tour
Transfer arrangement: From and to your hotel with private driver with Mercedes class vehicle. Duration: 6 hours
Child-friendly itinerary rating (based on traveler feedback):
Your English speaking driver/guide will pick you up at your hotel in the morning to drive you to Pisa where you can enjoy a visit to the popular Leaning Tower. A short drive from Pisa will bring you to Lucca, first settled in the pre-Roman age and becoming a Roman colony in 180 B.C. During the middle age, Lucca became famous for its textile industry, mostly silk, for which Lucca has been enlisted in the UNESCO Heritage sites. Lucca is still a less crowded touristy destination, its typical medieval layout and remarkable buildings are greatly rewarding to those who visit.
Your private guide will introduce you to Lucca: the Piazza dell'Anfiteatro, a medieval open market situated on the site of an ancient Roman Amphitheater, San Michele square, Napoleon square, the Cathedral of San Martino, the Church of San Frediano and the medieval Guinigi Tower with it's centuries old rooftop garden. After your lunch break in one of the many family run restaurants serving strictly local cuisine, you might have free time to enjoy a walk on top and along the medieval wall encircling the town.
Sorry, the map will be in place shortly