Grand Tour of Sardinia
1
Costa Smeralda & Porto Cervo
2
Highlights
Costa Smeralda, Nuraghe, Alghero, Cagliari, Wine Tasting and Cooking Class
8 Days - $2,900
Read More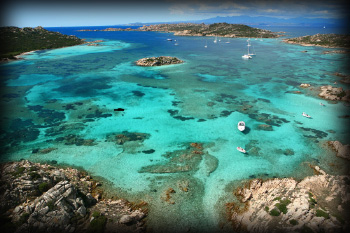 Highlights
Costa Smeralda, Porto Cervo, Wine Tasting, front sea resort.
4-5 Days - $1,600
Read More
With the increased interest Sardinia, we have arranged two itineraries for those travelers that wish to explore this beautiful island. The first, Costa Smeralda and Porto Cervo, is intended as an addition to a larger tour, perhaps in place of one of the other traditional areas of interest. The second, Grand Tour of Sardinia, allows the time to really become acquainted with this relatively unexplored jewel of Italy. As always, this itinerary is customizable and adjusted to fit with your particular arrangements.
Highlights of Sardinia
Pristine Waters and Unspoiled Nature
Second largest island of Mediterranean Sea, Sardinia boosts 3 National Parks, 3 Natural Reserves, and over 1,100 miles coastline with a sequence of exotic sandy white beaches, impressive cliffs,  and secluded bays. Many options to enjoy sunbathing, water sports and cruises along the coast and and around the Maddalena Archipelago.
On the Northeastern side of the Island, Costa Smeralda is probably the most exclusive destination of the whole Mediterranean Sea, where the coastal development blends in the surrounding natural landscape thanks to its unique architectural style, as outlined in Porto Cervo.
The Worldly Wisdom
Sardinians proudly preserves the quintessence of the popular Italian relaxed life-style. Same dayboat-caught tender seafood, semi-nomadic livestocks and unique indigenous vineyards are the heart of the unique Sardinia cuisine: Bottarga di Muggine (salted mullet roe),  Mallureddus Pasta, Carasau bread, Seadas, Pecorino cheese, Sheep Prosciutto, Vermentino di Gallura and Cannonau wines… This might be the secret of their impressive longevity, where one finds the world's highest concentration of centenarians.
Preserved Cultural Heritage
Sardinia also offers an unique opportunity of Cultural tourism thanks to the many archeological sites of the, somewhat still mysterious, Bronze-Age Nuraghi civilization. Moreover, the somewhat isolated location helped to preserve through many centuries ancient traditions, a widespread Sardinian dialect, handmade craft manufacturing and food making.
The regions of Alghero, Cagliari offer wide options of historical site starting from Phoenician to Ancient Romans till the influx of Spaniards. The charm of Sardinia is also found in the pastel colored downtown of Bosa and the Murales in Burore.
SARDINIA TOURS 2016